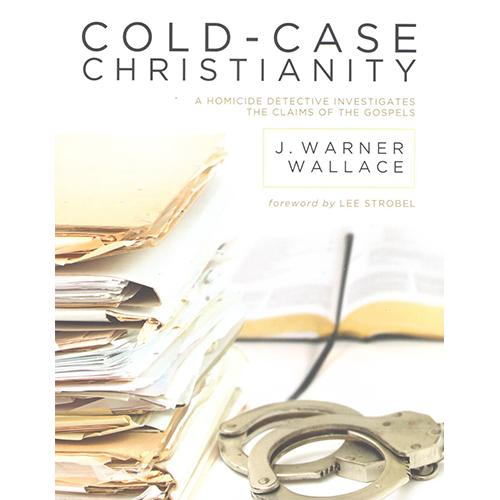 As those of you who follow this blog know, I am currently reading and reviewing New Testament scholar Raymond Brown's (very thick) two volume work, The Death of the Messiah.  It is very interesting in places and very, very dry in many others.  Therefore, I have decided to break up my review of this scholarly work and will begin to intermittently review J. Warner Wallace's book, Cold-Case Christianity.  This seems to be the "go to" book for many amateur evangelical Christian apologists as the best defense of the claims of traditional Christianity.  I therefore feel it necessary to read this book in order to be better informed regarding Christian apologetic arguments.
Christianity makes a claim about an event from the distant past for which their is little or no forensic evidence.  Like cold cases, the truth about what happened can be discovered by examining the statements of eyewitnesses and comparing them with what little additional evidence is accessible to us.  If the eyewitnesses can be evaluated (and their statements can be verified by what we have available), an equally strong circumstantial case can be made for the claims of the New Testament.  But are there any reliable eyewitness statements in existence to corroborate in the first place?  This became the important question I had to answer in my personal investigation of Christianity.  Were the eyewitness narratives eyewitness accounts, or were they only moralistic mythologies?  Were the Gospels reliable, or were they filled with untrustworthy, supernatural absurdities?  The most important question I could ask about Christianity just so happened to fall within my area of expertise.
–J. Warner Wallace, experienced cold-case homicide detective and former atheist
Gary:  I believe that Mr. Wallace has asked the critical question when it comes to the reliability of the stories found in the four Gospels of the New Testament:  Were these books written by eyewitnesses (two of them by close associates of eyewitnesses) as conservative Christians claim or were they written by persons who were not eyewitnesses; persons writing down stories which they had heard circulating in oral form in their communities many decades after the alleged events?
I interviewed hundreds (if not thousands) of eyewitnesses and suspects.  …I conducted so many interviews and had such success getting suspects to "cop-out" that my department sent me to a number of investigative schools to refine my skills; I was eventually trained in Forensic Statement Analysis (FSA).  By carefully employing this methodology and scrutinizing a suspect's choice of pronouns, use of tensed language, compression or expansion of time (along with many other linguistic tendencies), I was typically able to determine if he or she committed the crime, and I could often establish the time of day when the crime actually occurred!  I began to use FSA as I studied the Gospel of Mark.  Within a month, and in spite of my deep skepticism and hesitation, I concluded that Mark's gospel was the eyewitness account of the Apostle Peter.  p. 18-19
-J. Warner Wallace
Gary:  Wow!  He's got my attention.  Is it really possible that one crime detective, after just one month of research, has better analytic ability to determine the authorship and source of the Gospel of Mark than the majority of critical New Testament scholars, most of whom have spent decades studying this issue; critical scholars, the majority of whom, do not believe that an eyewitness nor an associate of an eyewitness wrote the Gospel of Mark (or any other gospel)???
I am all ears.
Stay tuned for the next review!