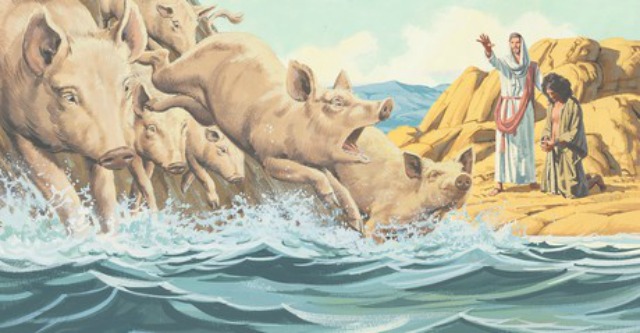 I challenge every Christian to do the following: Read the Gospel of Mark in parallel with the Gospel of John. In other words, read the first chapter of Mark and then the first chapter of John. Then, read the second chapter of Mark followed by the second chapter of John. Follow the same pattern with the remaining chapters of both gospels. What you will see is that the Jesus of The Gospel of John is very different from the Jesus of The Gospel of Mark. Here is what NT Wright, New Testament scholar, has to say on this subject:
Only John has Jesus making pronouncements with a double "amen" (KJV: "verily, verily"), but there are more substantive differences in the words and actions of Jesus. In John's Gospel we don't see Jesus perform an exorcism (but note 12:31) whereas in the Synoptics that is a major feature of the ministry of Jesus. Jesus teaches in long discourses in John, but not using many parables. John has much unique material, such as the encounters with Nicodemus (John 3) and a Samaritan woman (John 4), as well as the washing of the disciples' feet (John 13), but not instituting the Lord's Supper. The post-resurrection appearance to Mary Magdalene alone (John 20) is another idiosyncratic feature of John's Gospel.
There are many more examples of John's unique presentation of the words and deeds of Jesus, such as John being alone among the Gospels in reporting the promise of the coming paraclete (John 14-16) and the seven "I am" statements. Readers of the Gospels should explore this area more noting how John's presentation of Jesus complements that of the Synoptics. —source
John compliments the Synoptics?? I don't think so, Reverend Wright! I think the stark differences in the sayings and actions of Jesus in the Gospel of John and the Synoptics is excellent evidence that the Gospels contain massive quantities of historically unreliable material; material that was either invented by the original authors for evangelistic purposes or fanciful embellishments which inevitably crept into The Jesus Story, as occurs in all legends and tall tales.
Jews, Muslims, and other non-Christians must shake their heads in disbelief when they read the ridiculously incongruent stories about Jesus found in the Synoptics and John.
.
.
.
.
.
End of post.