Deuteronomy 20:10-11
"When you go near a city to fight against it, then proclaim an offer of peace to it. And it shall be that if they accept your offer of peace, and open to you, then all the people who are found in it shall be placed under tribute to you, and serve you.
However….
Joshua 11:20
"For it was of the LORD to harden their hearts, that they should come against Israel in battle, that he might destroy them utterly, and that they might have no favour, but that he might destroy them, as the LORD commanded Moses."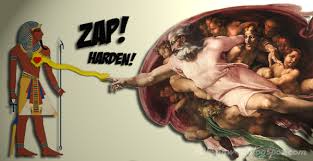 Gary: It appears that the Judeo-Christian god just had an itch to kill people sometimes. Why any Christian apologist would attempt to justify this sick, demented behavior is incomprehensible to me.
.
.
.
.
.
End of post.