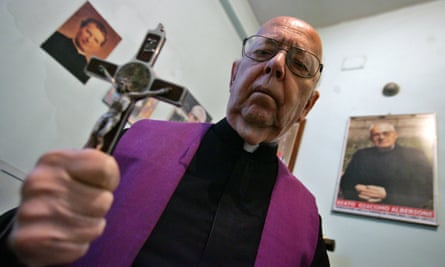 Call your local Presbyterian or Episcopalian clergyperson and ask them how often they have conducted an exorcism on one of the members of their congregation. Ever??
Then call your local Pentecostal minister. Ask him or her the same question. I bet you will get a very different answer. Why is that?
A public university education is the best cure for (belief in) demons and demonic possession!
My father was a fundamentalist Baptist pastor. One day when I was ten or eleven years old he performed an "exorcism" in his church office while I was listening outside the door. The woman he was "exorcising" was a working class single mother with a high school education with a lot of financial and emotional issues.
I listened to my father talk to the "demon" which "possessed" her. It had a deep voice and was very angry at the world and at God. Was it a male voice or just the woman's own voice, attempting to speak like a man? Looking back, it could have been either. But now that I am older and more educated, I am certain it was the woman's voice, attempting to talk like a man.
That is the issue with all these alleged cases of demon possession: The claims can always be explained naturally. No demon-possessed person has ever levitated from the middle of Times Square or any other public square. No demon has ever popped into the nightly news broadcast or caused the news anchor's pen and papers to levitate in front of the camera. Demons just don't seem to like video recording devices! In a world where almost every person on the planet has a camera phone, demons and their laws of physics defying activities are never recorded.
These off-camera demonic events almost always occur in private or in the presence of believers (who never seem to have their smart phones operating). Why is that? (And no, Randal Rauser, PhD, we don't need a formal study to know that this is the case.)
.
.
.
.
.
End of post.