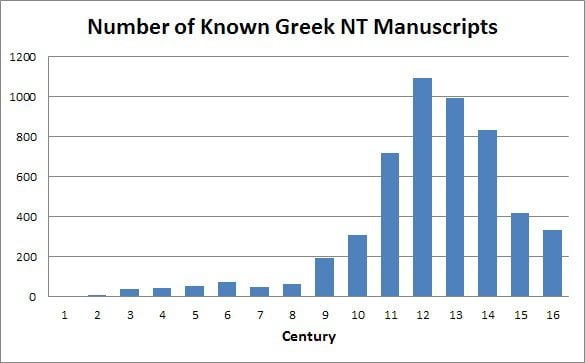 My review of "Lord or Legend", part 7, by Gregory Boyd and Paul Eddy:
We possess roughly 5,500 ancient Greek manuscripts of the New Testament, either in fragments or in whole. On top of this, we possess thousands of ancient translations of the New Testament as well as countless citations by early Christian writers. By comparison, among the next best attested ancient works is Homer's Iliad, for which we have less than seven hundred published manuscripts. …Obviously, the New Testament is in a class by itself in terms of the wealth or our textual attestation.
Equally relevant is the relatively early dating of some of these manuscripts. Our earliest fragment of a Gospel text comes from the first half of the second century. …No other ancient work comes close to this wealth of early textual attestation. …Clearly, if anyone is going to doubt that the copies of the Gospels we possess today are reasonably close to the originals, they would have to reject outright the textual reliability of virtually every other ancient text.
–p. 82-83
Gary: If I had a dollar for every time I've heard a Christian apologist use these statistics I'd be rich!
So what!!!
Let's use the same logic for Homer's Iliad: If we had 5,500 copies of the Iliad, and the earliest fragment of the Iliad in our possession was from just 100 years after Homer wrote the original, would these facts in any way prove that one-eyed cyclops exist and that demi-gods can be robbed of their supernatural powers by shooting an arrow into their achilles heel?
No.
Dear Christian apologists: Please stop quoting these statistics. They don't help your case. They don't help you prove that a first century Jewish virgin gave birth to a demi-god fathered by a ghost; who after being executed as an adult for treason, was raised from the dead by his (god) father, enabling him to eat a broiled fish lunch with his former fishing buddies, before rocketing off into outer space, where he currently reigns as King of the Cosmos!
The number of copies of a book and the age of the earliest copy of that book in no way validates the claims in that book.
Read part 8 here.
.
.
.
.
End of post.