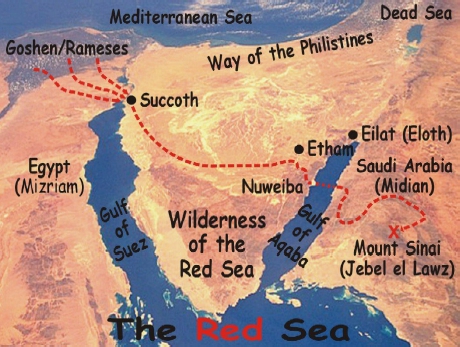 \
Christian reader of this blog:
Quoting Gary, from the post: "Dear Pastor Jordan Cooper: The Earth is not Flat"]: "And then there is the Sinai. Two million Hebrews wandered for forty years in a small, confined land mass and not one Hebrew artifact or piece of pottery has ever been found! And even more damning: God killed off all the Hebrews over age 20 who had left Egypt, barring them from entering the Promised land due to their complaining and lack of belief. Therefore, one million to one and a half million Hebrews died in the Sinai, sometimes all at once, such as in the incident with the serpents…and not one single Hebrew skeleton has ever been found in the Sinai!"
The small land mass you are referring to is between the west branch and the east branch of the Red Sea. In Galatians 4:25 it says: "For this Agar is mount Sinai in Arabia, and answereth to Jerusalem which now is, and is in bondage with her children." Arabia is a much larger land area than what you call the Sinai Peninsula, and Arabia is on the eastern side of the east branch of the Red Sea.
Gary:
Are you saying that several million Hebrews traveled from Egypt proper (Africa) directly to the Arabian peninsula without ever stepping foot in the Sinai??? If so, do you have a professional archaeologist who supports this theory?  If several million Hebrews made it to a mountain in the western Arabian peninsula, how the hell did they get there without going through the Sinai?
Air Saudi??
If several million Hebrews crossed the Sinai, even if it was just once on their way to western Arabia, there would still be significant archaeological evidence of this mass movement of people.  The fact is:  There is none!
End of post.