How many times have you heard a Christian apologist say this:
  "The earliest Christians claimed that Jesus had been resurrected from the dead.  How could anyone come to that conclusion unless they had actually seen his resurrected body?  "Resurrection" in first century Jewish theology only meant bodily resurrection, therefore, the early Christians must have seen a resurrected body in order to believe that a resurrection had taken place."
This assumption can be very easily disproven:  Millions of Christians today believe in the bodily resurrection of Jesus but even Christians must admit:  not ONE of these millions of believers in the bodily resurrection of Jesus has ever seen a resurrected body!  Therefore, one does not need to see a resurrected body to believe in the bodily resurrection of Jesus.
"But some early Christians claimed that he appeared to them," apologists will respond.
The earliest story of resurrection appearances is found in the Early Creed recited by Paul in First Corinthians chapter 15.  There is no mention whatsoever of anyone in this list claiming to see a walking, talking, broiled fish-eating resurrected body.  In fact, the Early Creed gives zero description of what anyone on this list allegedly saw!  Only in the last three Gospels do we find stories of anyone claiming to have seen a resurrected body.  And as I have shown here, these stories have all the signs of being literary/theological embellishments (fiction).
People today see cloud formations and stains on a wall and believe that they have seen Jesus' mother.  So why is it so improbable to Christians that similar illusions were responsible for the early Christian Resurrection of Jesus belief???
Superstitious people believe the darndest things!
Just say NO to superstitions, folks!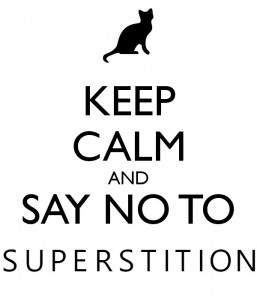 End of post.