As we saw in a previous post, according to evangelical authors and apologists Josh and Sean McDowell, a significant percentage of Christian evangelicals now believe that it is completely acceptable for a "Bible-believing" Christian to believe that God created the first human being using an already existing hominid (an ape man). 
And as we saw in another previous post, it is also now perfectly acceptable for evangelicals in good standing to believe that although the first humans were created in God's image in "Eden", located between the Euphrates and the Tigris rivers in Mesopotamia as the Bible claims,  it is possible that after God ejected the first humans from his garden for their sin of forbidden-fruit-eating, they migrated to east Africa, consistent with the consensus scientific opinion regarding the location of human origin.
A majority of today's evangelical Christians now believe that a literalist interpretation of the Genesis Creation story is silly, uninformed, and naive.  As long as an evangelical Christian believes that Yahweh, the Judeo-Christian god, created the universe (using one of many possible methods, including evolution through natural selection), and that he created humans in his image (in some fashion, including breathing his spirit into an already existant, pre-homo sapien, hominid ape-man), that is perfectly acceptable.
But…what do evangelical Christians say about another story in the Bible, the Exodus of the Hebrews from Egypt?
First, let's see what evangelical Christian authors and apologists Josh and Sean McDowell say about the use of the Bible as an historical source:
We discover that often a different standard of evidence is applied to the Bible as opposed to other ancient manuscripts.  Leading archaeologist and Old Testament scholar James K. Hoffmeier explains the double standard:  "The reason is straightforward:  there is a general skepticism toward the Bible as a reliable source for history.  If it were not still Scripture to Jews and Christians, the Bible would not be treated in such a condescending and dismissive manner.  Because of this hermeneutic of suspicion, the Bible is not treated as a historical source unless there is external corroborating archaeological or historical (textual) evidence.  In the case of the Israelite sojourn and exodus, no direct, clearly identifiable support has come to light in Egypt."  (Hoffmeier, EWN, 48)
In this chapter we present and evaluate the latest evidence for the historicity of the exodus.  At the outset we must say the extra-biblical evidence is far from overwhelming.  We have no smoking gun providing clear, solid evidence that Israel lived in Egypt and Moses led the Hebrews out of the country.  …The lack of unambiguous extrabiblical reference does not rule out the fact, or at least the possibility, of the exodus as an historical event.  Therefore, in this chapter we attempt to show the Old Testament exodus story is plausible, even if seemingly improbable.
Josh and Sean McDowell, Evidence That Demands a Verdict, p. 461
(emphasis, Gary's)
Gary:  Wow!  And I mean, WOW!  Evangelical apologists and their scholars admit that the Exodus Story is seemingly improbable; that there isn't any clearly identifiable evidence for it in the archaeological or textual evidence…but dog gonnit…they are going to prove to everyone that it is…plausible!  Good grief.  If that isn't evidence of conservative Christians seeking evidence to confirm their faith-based conclusions instead of evaluating the evidence like good scientists to arrive at unbiased, evidence-supported, conclusions, I don't know what is!
And what about this complaint of a "double-standard" applied to the Bible?  Since when do mainstream archaeologists, Near East experts, and other scientists accept as historical fact claims made in other ancient texts which have no supporting archaeological or textual confirmation?  Never, that I am aware of.  So where is the doubt standard?  Archaeologists and Near East experts accept the historicity of some fact claims in the Bible, for instance the historicity of the biblical Israelite kings Omri and Ahab.  Why?  Answer:  Because there is supporting archaeological and/or textual confirmation of these biblical claims in other ancient sources!  There is no bias against the Bible in archaeology and among historians except in the minds of Christians!  If there is no archaeological or textual evidence to support the Bible's Exodus from Egypt Story, why the hell should educated people living in the 21st century believe this fantastical tale to be historical fact??
So why do so many evangelical Christians dismiss the Genesis Creation Story as allegorical fiction, yet insist that the Exodus, including the celebration of the first Passover and the death of the first born of Egypt, must be historical fact?  Why the double standard when evidence for both claims is essentially non-existent?   Here is why:
The exodus of the Israelites from Egypt is one of the most important historical events for both the Jewish and Christian faiths.  That central experience of rescue for the helpless out of a desperate condition has been recognized as a key example of God's love in making salvation (wholeness, healing, and restoration) available.  Theology is connected to these historical events.  …The saving power of God as shown in the event of the exodus is woven throughout the Bible and ancient Israelite beliefs and practices.  …The exodus and Jesus Christ's provision of salvation are connected as type and fulfillment.  …Believers for over 1500 years linked the history and theological insight.  …Without its [the Exodus] central meaning—an account in real history of God's loving awareness of his people and his saving action on their behalf—much of the Bible also comes under attack.
—Josh and Sean McDowell, Evidence That Demands a Verdict, p. 459-460, 477
(emphasis, Gary's)
Gary:  So in summary, there is no good evidence for the historicity of the Exodus, but conservative and moderate Christians are going to believe it anyway, because without it…Christianity collapses.
What a "house of cards"!
Why can't Christians see that?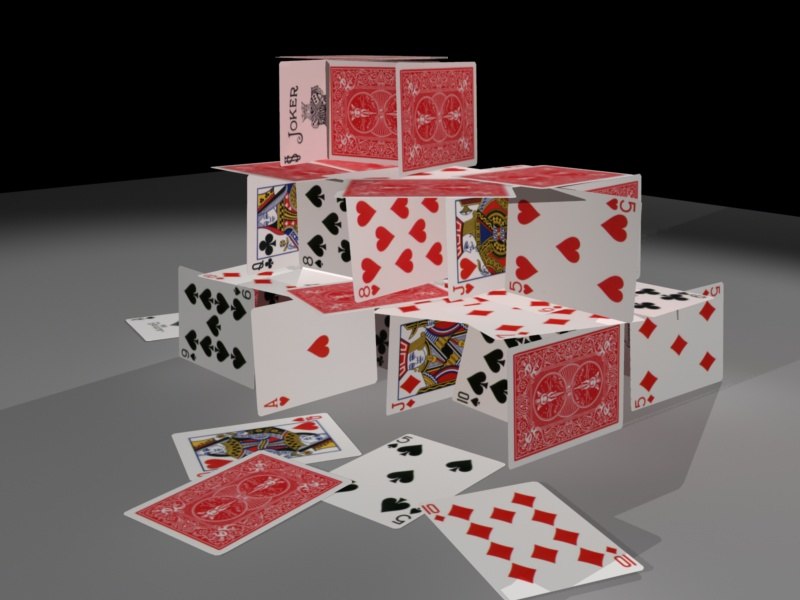 End of post.