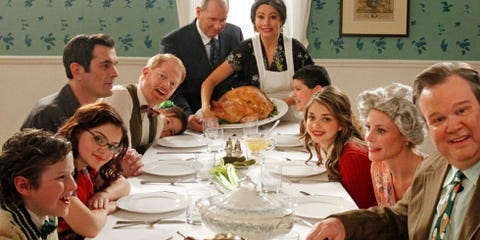 Today is Thanksgiving.  A day to spend time with family, to eat a lot of good food, and to "give thanks".  But to whom or what should an atheist give thanks?
As an non-supernaturalist (an atheist), I prefer to use the term "appreciate" rather than the term "give thanks".  On this special day I appreciate my family, my country, my friends, and the bounty of my hard work and good fortune (rare, but beneficial coincidences, such as being born in a First World country).  I appreciate the ability to afford a Thanksgiving day feast.  I could be spending the day in a homeless shelter or worse yet, hungry and on the street.  But I do not believe that I need to "give thanks" to any invisible force in the universe.
Today, one of my Christian relatives asked if we could say a Thanksgiving prayer before our meal.  They asked for permission because we were celebrating the meal this year in my house.  (If we had been celebrating our meal at their home, my permission would not have been requested.)  In the past I have tolerated this practice, even in my home.  The supernaturalists say their quick little prayer, while I and my family remain silent at the table, eyes open, heads unbowed, patiently waiting until the conversation with their imaginary, invisible friend is over.
But not today.  I couldn't do it.  I have become just too opposed to superstitious belief.  How can I tell my children to use the skills of critical thinking when confronted by the supernatural claims of their friends, while I passively participate in ancient hocus pocus right in front of them?  Nope.  I could not sanction this superstitious ritual occurring in my home; occurring in front of my children.
No.  There was no Thanksgiving prayer at my house today.  I will not perpetuate this particular family tradition.
So, Happy Appreciation Day to all!
End of post.