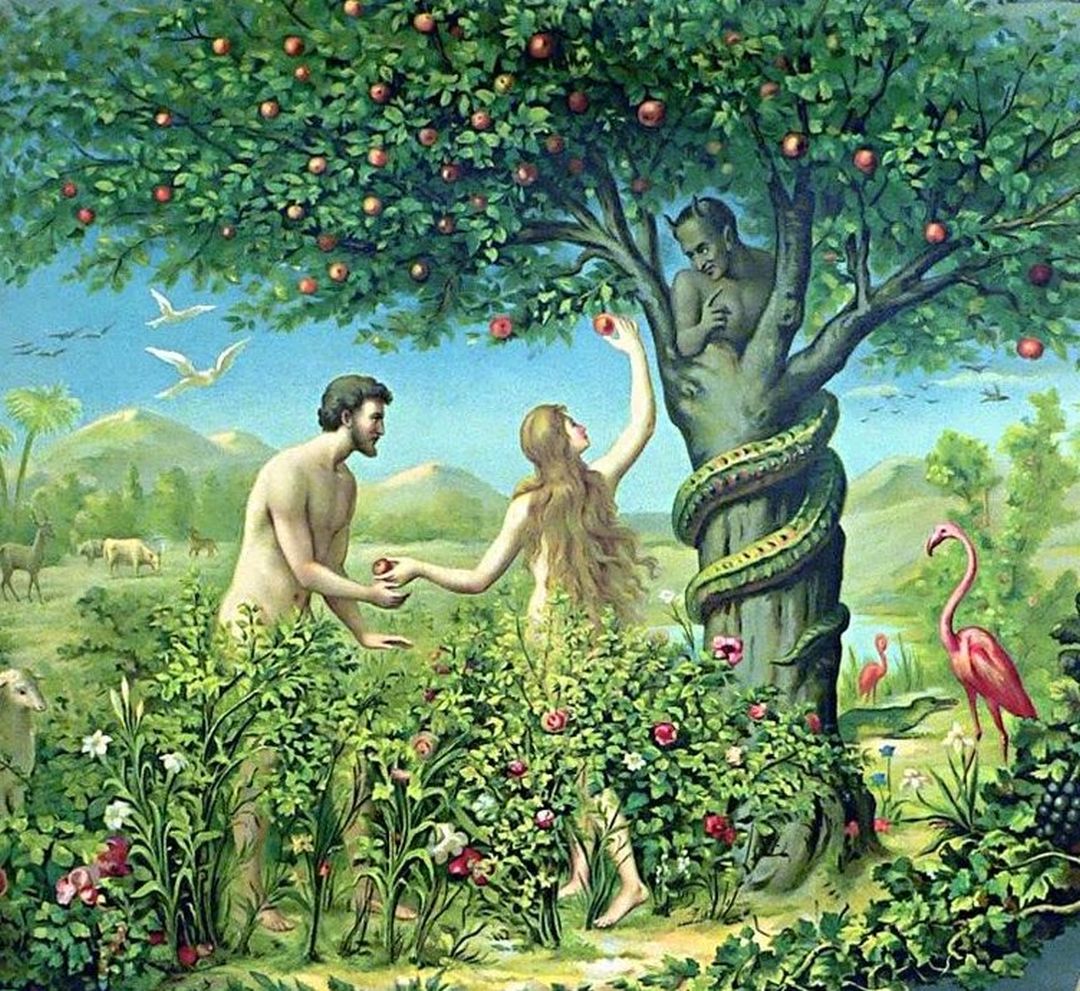 I explained in the previous entry that God is not the author of evil; an extremely intelligent non-human being, by the name of Satan, is. Evil entered the human race when this character, Satan, enticed our first ancestors to disobey God's rule. Evil is a direct consequence of disobedience to God's law through an act of free will, and even though evil did not originate with us humans, every single one of us is partly responsible for the evil in the world, some to a greater extent than others, but no one is completely innocent.
Gary:
In the process of my deconversion from Christianity, I took a long hard look at the story of Creation.  Something just didn't add up.  Why did Adam and Eve need a free will???  If God hadn't given them a free will they would not have eaten the forbidden fruit, and if they had not eaten the forbidden fruit, they might still be romping around a lush garden, bare-naked, playing with lions, tigers, and bears! The snake's temptation would have been a complete waste of time.
Christians will often counter that God did not want us to be "automatons".  "It would have been so unfair of God to create us without a free will."
Why???
It isn't as if an inability to chose "evil" turns you into a robot.  You still have a free will, it is just limited in scope.  You are still free to choose among a large selection of "good" choices.
"What do I want to do this morning?  Let's see, I can go play with the lions; I can go swimming with the sharks; or I can just lie around here all morning with my beautiful "mate".  And, I get to make those same choices every day for…eternity.  What's so bad about that?"
Let's review my choices:  Without a free will, I will spend all eternity still able to select from multiple possible alternatives regarding how to spend my carefree, work-free, time just as long as it is something pleasing to God.  With a free will, I will enjoy all the same fun things, but, if I screw up just once, and make the wrong choice by choosing something displeasing to God, I will spend the rest of my life performing hard labor, suffering sickness and injuries, eventually dying some horrible death, and unless I'm lucky enough to live somewhere on earth where I can hear the Gospel of Jesus, quite probably will spend eternity in a place of hellacious, unspeakable torment.
I'll choose no free will, please!
That's a no-brainer!
The argument that God had to give us a free will to be fair to us is nonsense.  God gave us a free will for his benefit.  Creating us so that we couldn't fail is boring.  Creating us so that we could fail is exciting!  Why else do you think that God put his Temptation Tree smack dab in the middle of the Garden?  Why else do you think God allowed Satan access to the Garden to pose as a talking snake to tempt and trick Eve into eating the forbidden fruit?
It was a total set-up, folks!
Free will wasn't for us, it was for God.  God gave us a free will because he wanted and expected us to fail. 
The Judeo-Christian god is either one sick bastard…or he is just a silly ancient tall tale.
End of post.